The Port Industrial Park holds a little over two square kilometers of dedicated land, which is made available for the setup of business and industries. Having the Hambantota Port declared as a free-port, eases financial burdens in today's fast moving day and age for shippers and manufacturers to manage their cargo movement on import, export and re-export. The Port Industrial Park follows and replicates the success of China Merchants Port's strategic 'PPC' or Port, Park & City model, which was first effectively implemented in the renowned industrial zone - Shekou in Shenzhen, in the People's Republic of China. This model has enabled investors to benefit from considerable savings in cost and time as a result of having the port within close proximity to their manufacturing plant
The industrial park has demarcated and classified 3 industry clusters such as Heavy Industries, Light Industries and Food processing industries. This demarcation is indicated on the diagram below and also shows the land area allocated for each cluster.
HIP welcomes the setting up of any manufacturing industry that's geared towards exports in the Hambantota International port Industrial park, provided it conforms to the Investment, Environment Laws and Policies of the Government of Sri Lanka. Heavy polluting Industries such as coal and cement manufacturing will not be allowed.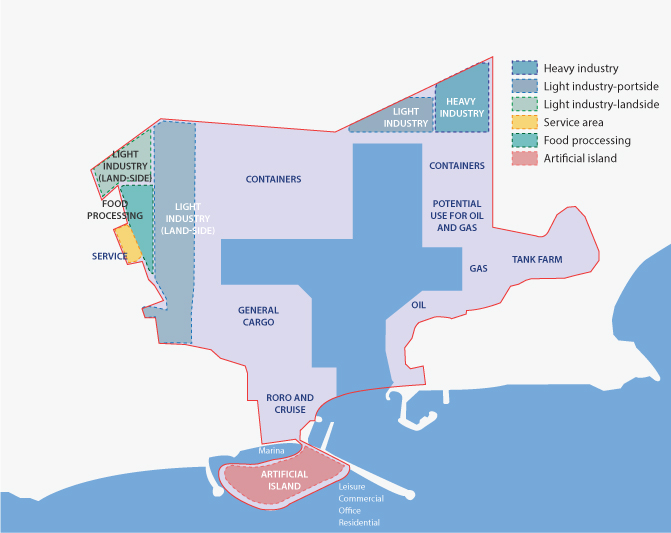 Cluster
Industry Sector
Year 2050 Land area (ha)
Heavy industry
Heavy industry
31.13
Total
31.13
Light industry
Light industry-portside
94.92
Light industry-landside
19.14
Total
114.07
Food processing
Food processing
16.33
Total
16.33
Service area
Office
0.41
Residential-apatment(for middle manager)
1.89
Residential-dormitory(for worker)
1.93
Retails
0.41
Life service
0.44
Sports
0.44
Total
5.52
Artificial island
Leisure area
3.25
Commercial area
5.44
Office complex
2.72
Residential & villa
16.06
Eco-park & square
5.48
Total
32.95
Green
Green belt
22.64
Total
22.64
Utility
Utility
5.90
Total
5.90
Industrial park area
Total
228.53