WHAT WE DO
Strategic Location and Robust Partnerships
Harnessing the resources of the Government of Sri Lanka, as well as the global standing of China Merchants Port Holdings (CMPort) in a Public Private Partnership, Hambantota Port Group (HIPG) is well-positioned to play a pivotal role in the global business arena. Located ten nautical miles from global shipping route linking the Far-East with the West, Hambantota International Port is Sri Lanka's most diversified deep-water, multi-purpose port. It offers a comprehensive range of services for the shipping industry, with a focus on new technologies and environmentally sustainable practices, in keeping with the latest advances in the maritime sector.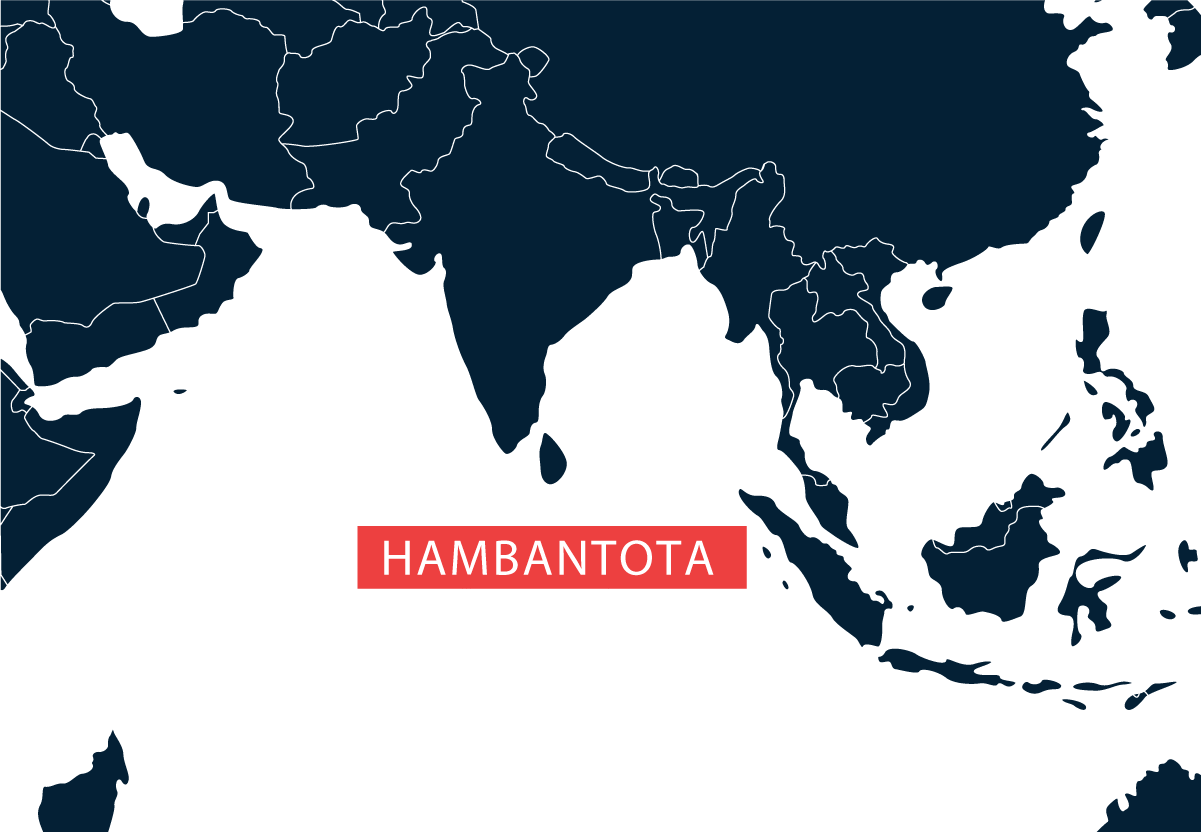 Why partner with us
Read more
10 NAUTICAL MILES FROM EAST TO WEST SHIPPING LANES
The port is strategically located just 10 nautical miles from shipping lanes crisscrossing the East and the West, thereby positioning it as a gateway to global trade. About 31,000 ships pass along this route every year. It is also complementarily situated between Singapore and Fujairah poised to supply fuel to ships plying this sea route. This is a boon to the port's bunkering and fuel supply operations. The location provides the added advantage of offering safe anchorage throughout the year.
Read more
DEEPWATER MULTI PURPOSE PORT WITH A DEPTH OF -17M
As Sri Lanka's most diversified deep-water port, Hambantota International Port has a depth of 17m, which gives it the capability to handle the largest vessels afloat.
Hambantota port offers a highly diversified range of services across several sectors, including RO-RO, container cargo, break bulk and bulk cargo, project cargo, oil & gas, as well as serving cruise ships.
Industry-specific services, geared to international standards, including bunkering, ship repairs, ship chandlers, sea marshals, underwater services, surveys and crew changes.
Read more
FREE PORT
Hambantota International Port is a free port guided by a master plan intended to make it a leading investment hub, while helping investors reap the benefits of its strategic location. The seven acre maritime industrial park provides opportunities for:
Manufacturing: for various light, medium and heavy industries.
Entrepôt Trade: import, minor processing and re-export.
Off-shore Business: re-exporting goods procured or manufactured in another country.
Front-end services: client-facing services for overseas clients.
Headquarters Operations: for managing finances, supply chain and billing operations.
Read more
HAMBANTOTA MARITIME CENTER: AN EXPORT-ORIENTED PLATFORM
The 12-story state-of-the-art facility enables customers and tenants to position their business on an export-oriented platform. Leading shipping agencies, financial institutions, technology companies and a number of conglomerates are already in occupation of offices. The Board of Investment (BOI) has also set up a One-Stop-Shop (OSS), which provides a single-window facility and access to key government institutions.
Read more
ROBUST PARTNERSHIPS AND GLOBAL PORT NETWORK
Strategic Alliance
Hambantota International Port is a strategic development project which combines the expertise and resources of Sri Lanka Ports Authority (SLPA) and China Merchant Port Holdings (CMPort) in a Public Private Partnership. CMPort is the largest, globally competitive public port developer, investor and operator in China, with a port network portfolio encompassing 36 ports in 18 countries and 5 continents, CMPort enjoys a global footprint that spans China and Hong Kong, as well as having a significant presence in South-Asia, Africa, the Mediterranean region and South America.
Network Strengths
CMPort's network allows Hambantota International Port to enjoy unlimited access to many of the world's leading ports. This also adds to the advantage of its enviable location, which enables it to serve a large number of ships which travel through the East-West Trade route, giving them considerable savings in time and cost.
Regional Dominance
Hambantota International Port adds a new dimension to Sri Lanka's ambitious effort in elevating the country into a regional maritime hub. This will play a key role in developing the national economy, as we are perfectly positioned to act as a gateway to global trade, giving our customers the most efficient connections.
Read more
INTEGRATED LOGISTICS
As a One-Stop Logistics Platform, Hambantota Port has put in place an integrated logistics system which provides for the optimal management of warehouses, transport and materials, which can be tailor-made to specific customer requirements. This also encompasses air and sea connectivity.
Read more
RELIABLE, FAST & EFFICIENT SERVICE
Hambantota International Port has established international best practices in harbor management, integrated logistics services, state-of-the-art technology and management practices, in addition to warehouses, storage areas and distribution centres within the port premises. Customers receive a comprehensive range of services on par with the world's best.
Read more
TECHNOLOGY DRIVEN GREEN PORT
Hambantota International Port is committed to introducing new technologies, boosting digital information flow and encouraging sustainable and green practices throughout the supply chain. As the International Maritime Organization (IMO) Council works towards the goal of safe, secure and efficient shipping on clean oceans, including the 2020 low sulphur cap regulations, Hambantota International Port provides an ideal location to invest in storage tanks, refineries and LNG bunkering facilities, and is IMO 2020 compliant to support ship fleets passing by.
WHO WE ARE
People lead the way
HIPG places great value on maintaining strong relationships with its people. While customers play a key role so do the teams that drive the operations of the port. It is when the trust and loyalty of its people have been gained, that the port can be steered towards global recognition.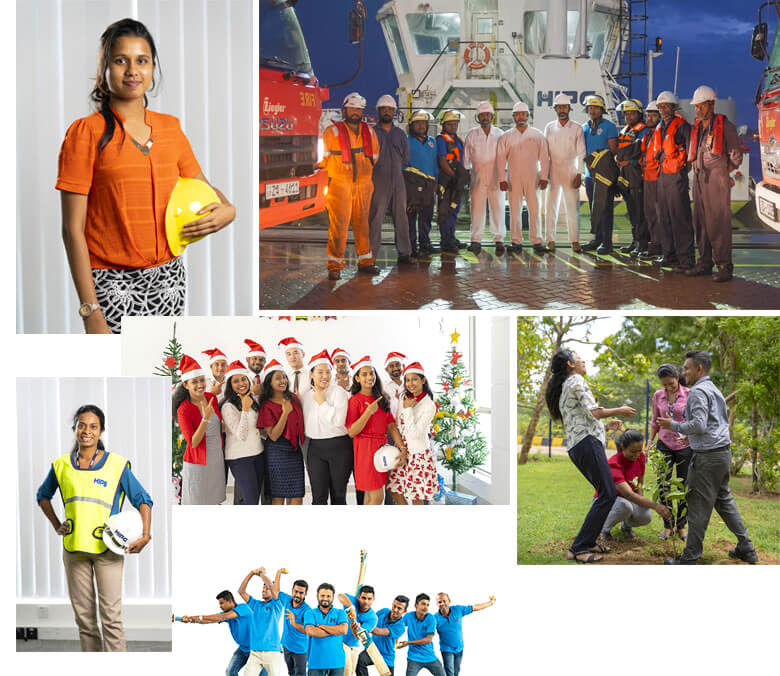 Join us for a rewarding career in the Port and Maritime industry.
An equal opportunity employer welcoming individuals of all backgrounds to our family. We believe in the importance of supporting our team members with career progression and development programmes designed to assist in achieving professional goals, in a friendly and family like environment built on respect for each other.
Current Openings
Media Center
The latest maritime news, announcements and events from Sri Lanka.