HIP Supplies Electric Fence to protect Agriculture in Hambantota
2022-11-27
Agricultural land in the Thammanawa area in the Hambantota district is now protected with a 15 feet high hanging electric fence that will keep away wild elephants.  The Hambantota International Port (HIP) handed over the 5 ½ kilometre fence to the Thammannawa village agriculture committee last week.  This area which was frequented by wild elephants will now be safe for villagers who will be able to carry out their livelihoods in peace.
The fencing project, which is a part of HIP's Human Elephant Peace initiative, was done after a scientific analysis was carried out in joint collaboration by the District secretariat and Wildlife Conservation Department. It also included 4 strategically placed roadside warning boards at high risk points and a series of awareness programmes for villages in the area.  The next step which has already begun and currently in an exploratory stage is the planting of a Palmyrah tree bio fence.
Johnson Liu, CEO of Hambantota International Port Group (HIPG), said at the handover ceremony, "HIP undertook this project because it is a burning issue within the community.  Finding answers to socio-economic problems within the local community is high on our agenda and this project will benefit around 60 families, approximately 200 people of the Thammannawa Village. The results are already evident in terms of the confidence we see amongst the villagers both in their personal safety when going about day to day life and the safety of their agri crops. Apart from that, protecting vulnerable communities and the environment is a standard set for us by our global partner CMPort.  In line with that, under the guidance of the District Secretariat we have already commenced our next step of planting Palmyrah seeds for a bio fence. This project will not only keep the community safe but will also provide sustenance to the local community.
The completed project and the ongoing bio fencing are all initiatives under the Human Elephant Peace Fund HIP established last year, supported by a grant from the China Merchant Foundation, the CSR arm of the port's global partner CMPort.  The fund was set up to aid initiatives that will go towards solving the Human Elephant Conflict, the umbrella initiative HIP began in collaboration with the Hambantota District Secretariat, and the Department of Wildlife. 
The Thammanawa villagers through the agriculture welfare society have volunteered to maintain the new electric fence and they will be guided by the Wildlife Department. In line with that an agreement was signed between the Hambantota Divisional Secretariat and the Society. The modern hanging electric fence protecting Thammanawa's agricultural land funded by the port is the largest privately sponsored electric fence in the district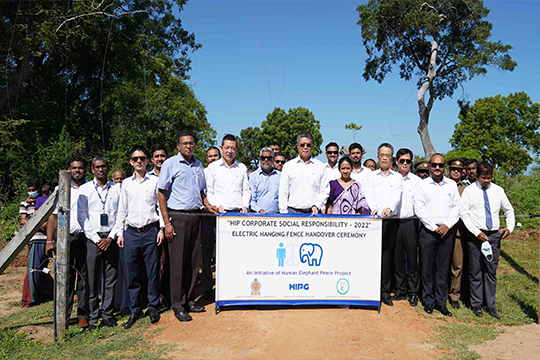 HIPG CEO Johnson Liu (Center) with the Human Elephant Conflict project team and villagers.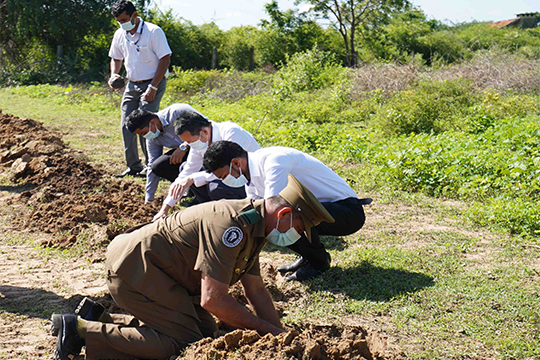 Divisional Secretariat and Wildlife Conservation Department officials join HIP in starting the bio-fencing project by planting palmyra seeds.