HIP gives Bodhisattva Statue to the Galwila Rajamaha Viharaya
2022-06-22
The Hambantota International Port Group (HIPG) recently unveiled a traditional Chinese Bodhisattva Statue at the Galwila Purana Rajamaha Viharaya.  The culturally important statue built by local artisans was an initiative of Johnson Liu, CEO of HIPG, based on an invitation by the Venerable Wimalabuddi Thero, Chief Prelate of the Purana Rajamaha Viharaya, early last year.
The port commenced work on the Statue in September 2021 and a 'Dathu Nidhan' (relic placement) in the statue was done early in 2022.  
CEO Johnson Liu who conceptualised the Bodhisattva statue says it is a symbol of the cultural and religious similarities of China and Sri Lanka, while standing as a mark of friendship between the Hambantota International Port (HIP) and the Galwila Rajamaha Viharaya.  "Buddhism is something that has bound China and Sri Lanka in friendship for hundreds of years and we at HIP are committed to carrying that legacy forward.  As a responsible corporate, we are not only interested in taking on projects for the physical welfare of our surrounding communities, but are also invested in their spiritual wellbeing.  We believe this addition to the Galwila Purana Rajamaha Viharaya would be of great benefit for devotees in the area and visitors to the temple would be able to identify with the similarities of our countries' religious and cultural beliefs."  The CEO was greatly appreciative of the craftsmen who did excellent work on the statue, and the Venerable Wimalabuddi Thero, who was invested in the project from inception.
Given the current economic situation in the country, the port has plans to further their commitment to the surrounding community. One of the projects they will lend support to is 'Samma Wayama,' a foundation to be set up by the Chief Prelate of the temple, at the invitation of CEO Johnson Liu.  The fund will focus on providing basic facilities and assistance to people in the area, who are in need.  Plans are also in the pipeline to support and contribute towards 7 other temples in the area.
The CEO was accompanied by a group from the management team of HIP including Tissa Wickramasinghe, COO, HIPG; Raymond Mu, CFO, HIPG; Ravi Jayawickreme, CEO, HIPS and Jeevan Premasara, Senior General Manager HR & Admin who participated in the unveiling ceremony.  The shrine is now open for devotees who wish to worship at the temple.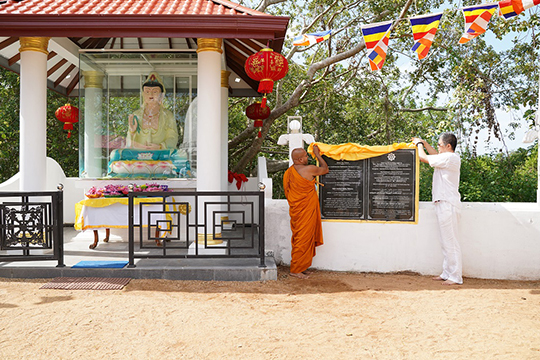 Unveiling of the plaque by Venerable Wimalabuddi Thero, Chief Prelate of the Purana Rajamaha Viharaya and Johnson Liu, CEO, HIPG to mark the event.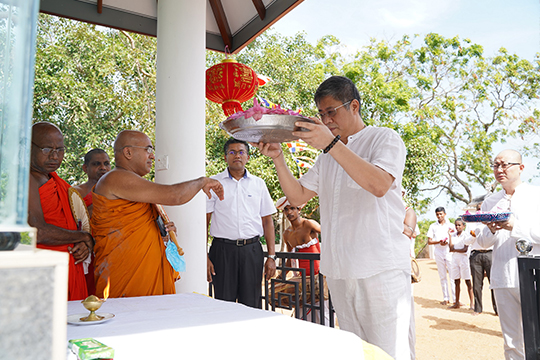 CEO, Johnson Liu worshipping the statue.