Hambantota Port Responds to Avert Major Fire in Town
2022-02-07
The Emergency Response Unit (ERU) of the Hambantota International Port (HIP) was called out recently to contain a fire that broke out in a shopping complex in the Hambantota Town. The fire which was successfully brought under control was yet another emergency handled by the port for the benefit of the local community.
K.G. Gamini Shri Ananda, Deputy Mayor of the Hambantota Municipal Council said in a letter of appreciation addressed to the CEO of Hambantota International Port Group, Johnson Liu on 20th January 2022, that he was thankful to the port on behalf of the people of Hambantota. He further said that the Hambantota Municipal area not having proper fire fighting equipment is a major setback. He adds that as the port is the closest organisation with a capable firefighting unit, the Municipal Council will continue to rely on the port's intervention for future emergencies that may occur.
"This prompt action to bring the fire under control prevented it from spreading and causing a major disaster," says the ERU team.
HIP's dedicated ERU is capable of attending all types of emergencies ashore or afloat. The unit has 3 dedicated and fully equipped fire trucks for shore based operations and the port tugs are equipped with firefighting capabilities for offshore emergencies. The professional firefighting and rescue team of the ERU is experienced and well trained to handle any emergency situation.
In the past, the HIP ERU team has controlled major fires that broke out in Mirijjawila and surrounding areas. In 2018 the HIP fire fighting unit prevented severe loss of lives and damage to a Tsunami Village in Hambantota where a fire occurred during a holiday when most of the residents were in their homes. The team has also carried out several offshore rescue missions and was amongst the first to respond to a major fire that occurred onboard the very large crude carrier MT New Diamond mid sea in September 2020. The port's two fully equipped tugs, Ravana and Vasabha along with the expert crew played a significant role in the firefighting & rescue operation.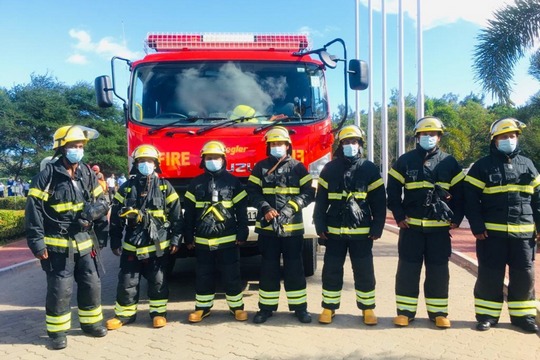 The Hambantota International Port Emergency Response Unit (ERU)