BOI Chairman and Delegation visit Hambantota International Port
2022-03-26
The newly appointed BOI Chairman Raja Edirisuriya toured the Hambantota International Port (HIP) earlier this month.  His visit was to address the port's concerns and to be briefed on services offered by HIP.  The chairman's delegation, which included the Director General and Directors of the BOI, were given an overview of the port by Tissa Wickramasinghe, COO and Raymond Mu, CFO of the Hambantota International Port Group (HIPG).
Progress made by HIPG with regard to the overall business performance was discussed along with key FDI projects brought into the country. The challenges that HIPG faces in regard to processes which impedes the growth potential of 5 business verticals i.e. port services, marine services, energy hub, Port Industrial Park and Integrated logistics, were also part of the discussions. The delegation was briefed on CSR projects carried out by the port, such as the PCR testing facility, HOPE village, the human-elephant peace initiatives and employment opportunities created in the Southern Province along with skills-training. 
Tissa Wickramasinghe, COO of HIPG said the BOI plays an important role in addressing the port's strategic partners who are international investors and operators in the port's services and the port's industrial park investors. "The Chairman and delegation agreed to address and rectify the critical core concerns of HIPG ensuring a smooth process for investors to capitalize the full potential of their investments made in the Port of Hambantota. The BOI would facilitate in terms of providing their support and presence along with HIPG, in working with relevant government agencies. We greatly appreciate the support extended by the BOI." 
"A main role of the Board of Investment is to support investors in Sri Lanka including HIPG for which it is a Strategic Development Project (SDP) registered under the BOI. We have discussed all the work that the port is currently carrying out in its port services, industrial park, energy services terminal and the current difficulties and concerns which we take very seriously. We will critically evaluate the issues one by one and discuss with HIPG. The BOI will facilitate in sorting out the problems after identifying the root causes and will intervene with other parties such as government institutions for better solutions," said the BOI Chairman.
Johnson Liu, CEO of HIPG is of the view that Sri Lanka will soon be able to overcome the economic setbacks it faces and embrace greater development momentum.  "We are doing our part to position Sri Lanka as a win-win opportunity for the investor community.  Our port investment services team is actively promoting Sri Lanka abroad and we have also set in place an internal mechanism to accelerate processes. This blueprint which is known as 'HIP Speed' is specifically designed to overcome bottlenecks in the establishment of new ventures within the port's industrial park. We are positioning HIP as a successful multipurpose port for Sri Lanka and support from the state sector is vital."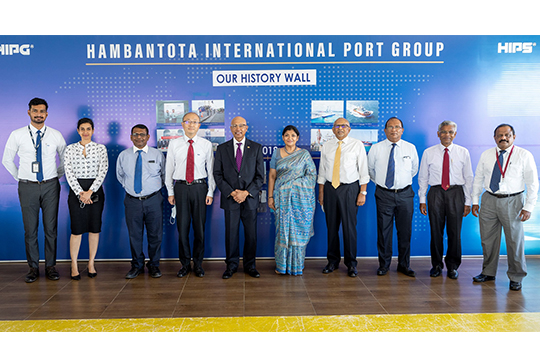 Standing left to right: Nishantha Gamage (Manager, Commercial and Marketing, HIPG), Sabrina Edirisinghe (Senior Manager of Port Investment Services, HIPG), Mahinda Ramanayake (Executive Director Investor Services, BOI), Raymond Mu (Chief Financial Officer, HIPG), Raja Edirisuriya (Chairman, BOI), Renuka Weerakone (Director General, BOI), Tissa Wickramasinghe (COO, HIPG),Upali Senarath (Executive Director Project Implementation, BOI), H.M. Jayasundara (Executive Director Engineering Approvals & Special Projects, BOI) & M.K. D. Lawrence (Executive Director for Zones, BOI)